When we talk about the video, there has been an increase in image quality over the years. We can now enjoy movies and record our videos in 4k high resolution. 4k has taken our watching experience to a completely different level. However, certain devices cannot play 4k video properly, and that is when we need to lower its resolution without losing the 4k quality. There are many 4k HDR video converters, which can perform the task, but there are only a few converters that can retain the 4k quality while converting between the formats.
What is the need for converting 4k HDR to 1080p SDR?
The main difference between 4k HDR and 1080p SDR is the difference in picture quality.
The image quality of 4k is the next level when compared to 1080p. Its resolution is about four times as compared to 1080p.
HDR stands for High Dynamic Range. It supports files that are big and give more color information. For HDR you need to have big storage and a very fast internet connection. On the other hand, if we talk about SDR, its screen projection is slightly muted and it has a low brightness too.
A 4k HDR file is very huge. If you record a 4k HDR video with your iPhone, it becomes too large to be shared with anyone. We generally lower down the resolution and tweak the settings so that the size of the file reduces and it becomes easy to share. Furthermore, for the people who have old computers, it is not possible to play 4k HDR videos as old devices do not support 4k HDR videos. In these situations, you can convert 4k HDR to 1080p SDR to retain the same experience.
Part 1. The best tool to convert 4k HDR to 1080p SDR
The single best 4k HDR converter tool present in the market today to perform the above conversion is Aicoosoft Video Converter. It is no doubt one of the best converter tools that can perform 4k HDR to 1080p SDR conversion very efficiently. Besides conversion, you can also record and edit videos here. If we talk about the conversion speed, Aicoosoft Video Converter has no comparison as it performs conversion with lightning-fast speed. The most amazing part of this software is that it uses powerful AI technology to perform the conversion process.
Key features of Aicoosoft Video Converter
Let us talk about some of the major features of this software:
As mentioned above, Aicoosoft uses powerful AI technology to perform HDR to SDR conversions. This technology helps it to maintain a fine balance between the output quality and the conversion speed.
The 4K HDR converter software works great on both Windows and Mac OS. It is a brilliant video downloader too. You can download HD and 4K videos using Aicoosoft from all the famous streaming sites.
It uses lossless conversion technology because of which there is no loss of quality in the output 1080p SDR video.
With GPU acceleration and a Multicore processor, you can perform HDR to SDR conversion in seconds.
Aicoosoft supports all the popular audio and video formats. It is no doubt one of the best video converter for 4K HDR videos present currently.
Aicoosoft is an all in one video editor too. Besides converting, it can edit, trim and cut the videos too.
How to perform 4k HDR to 1080p SDR conversions using Aicoosoft Video Converter
Step 1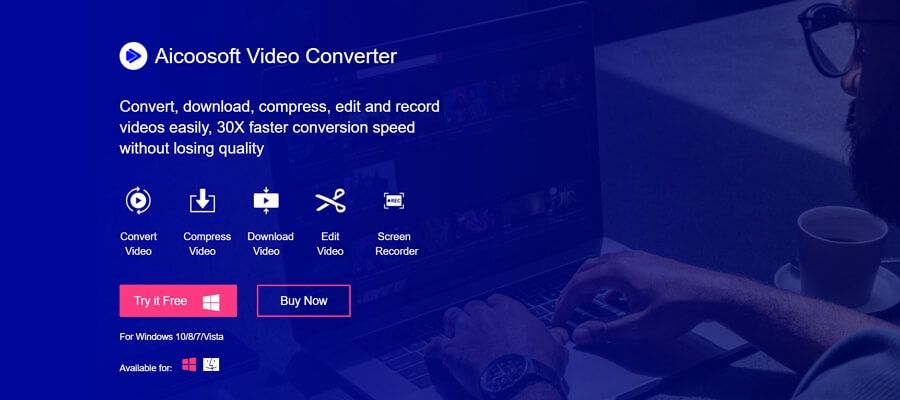 Step 2
Once the converter is installed, open it and add the 4K HDR file by clicking on the Add Files button.
Step 3
After adding the video, choose the format in which you want your added video to convert. In this case, it is 1080p SDR. The format option is displayed on the right side of the window, select the output you want. Then click on "Convert" button to start the conversion.
Step 4
Once the conversion process is completed, you can click on the "Open Folder" icon to view it.
Part 2. Use free 4k HDR converter software to convert videos
Handbrake is a free tool and it is the best way to convert 4k HDR MKV to SDR. It is an open-source transcoder using which you can convert video to any modern format. It is a multi-platform tool, which can work on Linux, Mac, and Windows easily. Handbrake has been in the market for over 10 years and has been one of the most trusted tools for 4k HDR to 1080p SDR conversions.
How to convert 4k HDR to 1080p SDR using handbrake
Step 1. Launch Handbrake and click the Open Source button and then choose the option Open File from the drop-down menu. Choose the 4K HDR video that you want to convert.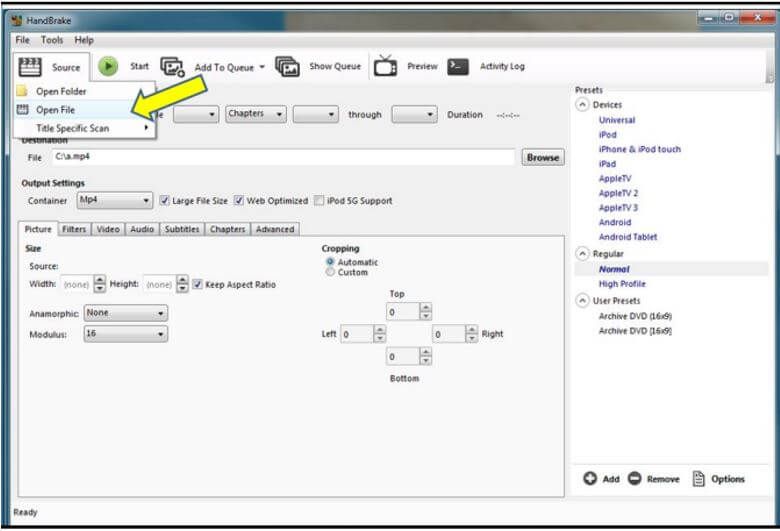 Step 2. Adjust the output settings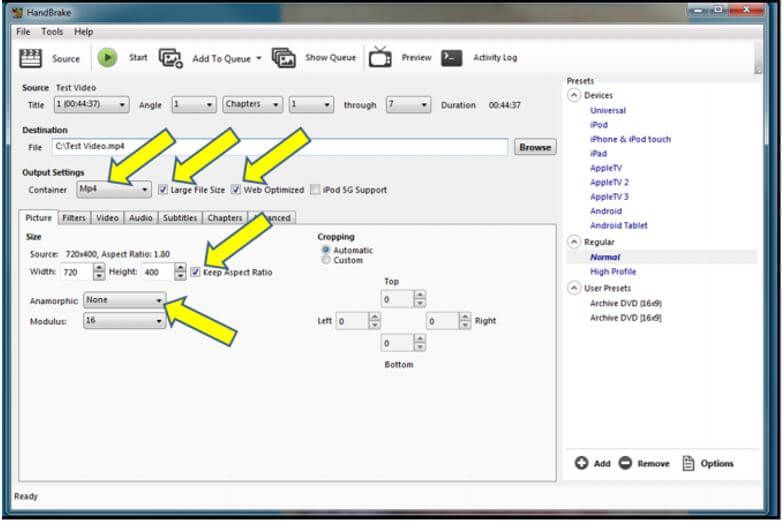 Step 3. Adjust the video settings.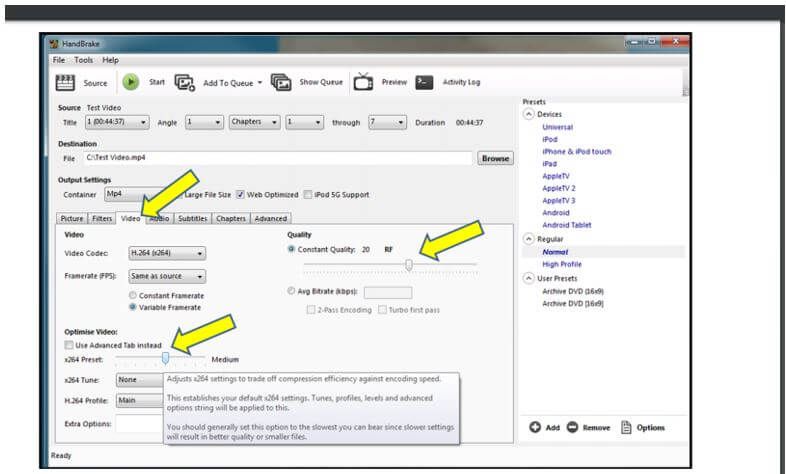 Step 4. Click on Start to initiate the conversion process.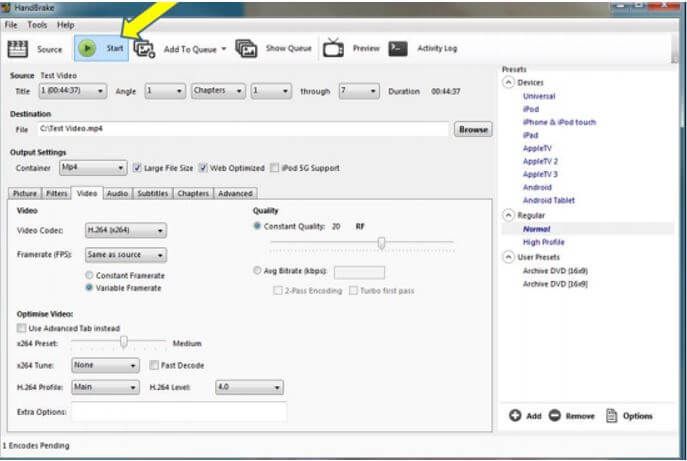 Pros:
It is very free to use.
It does not take much disk space.
It can easily extract videos in formats like Blu-Ray and DVD.
The conversion process is very fast.
Cons:
It can convert to MKV and MP4 formats only.
Its interface is a bit difficult to use so it can create a problem for the people who use it for the first time.
Conclusion
With the above-mentioned tools you can perform the conversion very easily. Both the tools are reliable and perform the conversions very fast. There is no loss in the quality of the output video and you can still enjoy the experience of 4k if you use these tools for the conversion. However with Aicoosoft Video Converter, you will get a totally professional experience. The powerful video converter performs the conversion in seconds with no compromise in quality at all.