Have you found that you cannot play GoPro 4K movies on your mobile phone? Then, do you want to convert GoPro 4k to 1080p so that you can watch it on your mobile phone? Alternatively, do you want to convert 4k to 1080p so that it becomes smaller where it could be uploaded much faster on the web? It is irritating when you want to upload a high-quality video but it takes a lot of time. There are so many 4k to 1080p converters out there, which could help you, convert the video file but which one is free?
Why should you convert the 4K HDR video to a 1080p video?
Since a 4K video takes up larger space than the 1080P video, and it can only be enjoyed on the 4K monitors, we really need to convert 4K to 1080P.
There are some good things about converting the 4K HDR video into the 1080p video. When you are watching a movie on your phones and desktops, sometimes, we are unable to watch a 4k video unless your phone supports it. There are limitations to the video specifications when you watch it on your phone. There might be many restrictions that you might not even know. In addition, you need to play any video on the phone then you cannot enjoy the 4k resolution if your phone does not support the file. That is why users need to convert it into a 1080p format.
Part 1. Best way to convert 4K to 1080p without losing quality
Introducing you to Aicoosoft Video Converter, the best 4K to 1080p converter we think! With 30X faster conversion speed and converting different videos into 1000+ formats, it is the best video converter out there. It uses powerful AI technology due to which the output video quality is highly appreciable and the conversion speed is also very fast. It is no doubt one of the most reliable software to perform 4K to 1080p conversion.
Key features of Aicoosoft Video Converter
Let us have a look at some of the amazing features of Aicoosoft Video Converter:
If you are worried about how to convert 4k to 1080p without losing quality, you will be amazed to know that Aicoosoft Video Converter software does not compromise with the output quality at all. It is a powerful video converter tool that can work on videos of multiple types and the conversions are flawless.
Aicoosoft Video Converter is platform-independent. It is a 4k to 1080p converter Mac and Windows.
It uses GPU acceleration technology and multi-core optimization technology due to which 4K-to 1080p conversions are performed in seconds.
Besides conversion, it can edit, download, and compress videos efficiently.
IT can convert 4K and HD videos to any format without loss in quality.
It supports multiple audio and video formats and you can download HD videos from more than streaming sites.
Convert the 4K HDR video into the 1080p using Aiccosoft Video Converter
To convert 4K to 1080p, it is easy on Aicoosoft converter. Here are a few steps on how you might be able to do it.
Step1
After downloading and installing the application, launch it and add the 4K video from your device using the "Add File" button.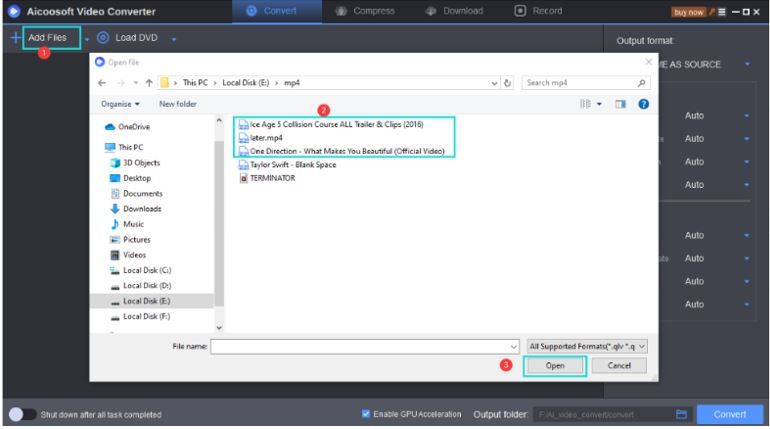 Step2
Choose the Output format by clicking on the inverted triangle present on the right side. Select the device for which you want to convert and 1080p resolution.
Step3
Click on the "Convert" button present in the lower right corner to start the conversion process.Then, you can find the converted video and save it to the destination you want.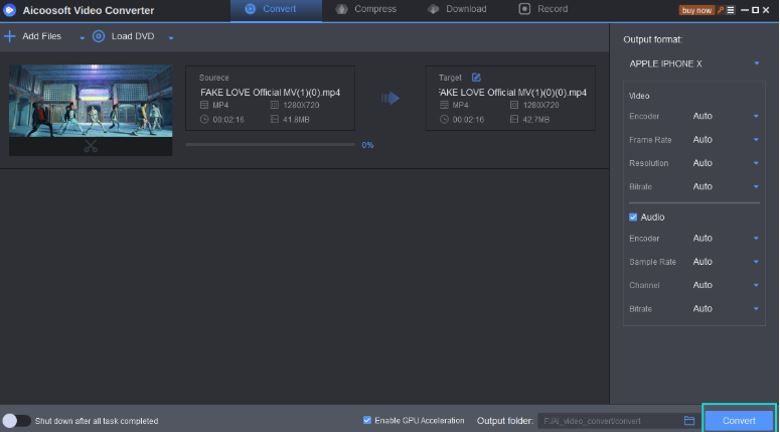 Part 2. Convert 4k to 1080p on iPhone
Looking for the answers how to convert 4k video to 1080p on iPhone? If you own an iPhone and you want to watch a 4K video on it, here is how you can watch it by converting it into 1080p. You can perform the conversion on the iPhone using iMovie. Just make sure that you have the latest version of iMovie and it supports the 4K format. Here are the steps to convert.
Step-by-step guide to convert 4k to 1080p with iMove
Step1: Open iMovie and add your 4K video.
Step2: Click the done button present in the top left corner.
Step3: Click the share button.
Step4: Save the video by clicking on the Save, button.
Step5: Choose the output format as of 1080p.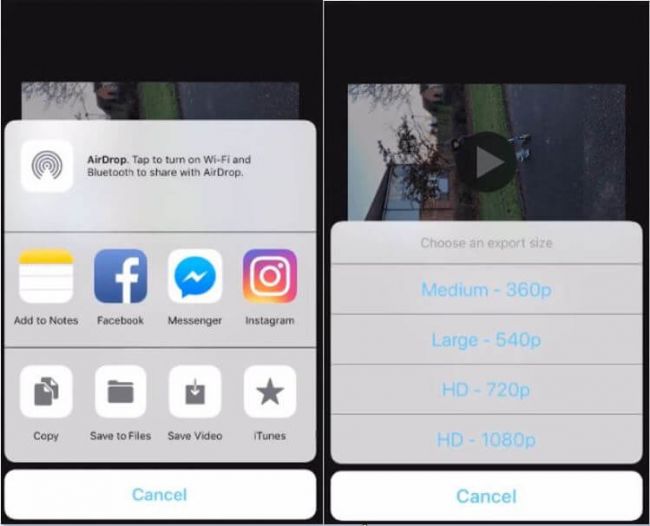 Part 3. Convert 4k to 1080p on Android phones
People these days prefer watching movies and videos on their Android devices. But it should be known that every Android device has limitations. If you are unable to play 4K videos on your Android device you need to convert it into 1080 p format for smooth playback. If you have the latest Android phone, then you will not face any problem in playing a 4K video, but in case your phone is not supporting it, you need to downscale the resolution to 1080 p. You can use Video Converter Android to convert 4K to 1080p android app conversion.
Video Converter Android
Video Converter Android is considered to be the most effective tool for the conversion of the videos into a format that can be easily played in your android device. With a recorded rating of 3.9 this tool allows the users to have access to multiple videos from various sources.
The specialty of this particular app is its weight. It is as light as just 837k. In addition to that, Video Converter Android is compatible even with the older versions like 2.0 and up. So everyone with Android phone can use it to convert videos.
The video converter software maintains the quality of the video even after the conversion by allowing the users to make the desired quality settings.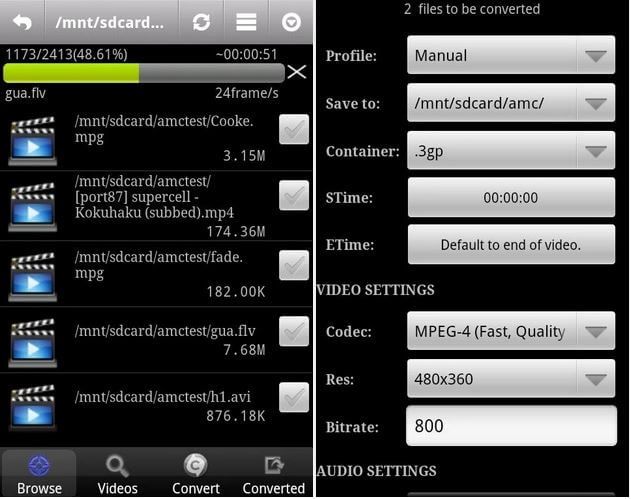 Conclusion
Thus, you can have your video at 1080p at any stage be it mobile phones like iPhone or Android phones. Although, there are online video converter 4k to 1080p which can help you to convert 4k video to 1080p online free, and you can even use free apps, like Handbrake, to convert 4k to 1080p, we still strongly recommend Aicoosoft Video Converter. With it, you can easily convert 4k video files into a format that can be played on iPhone and Android devices. Furthermore, it is not only a video converter, but also has many other outstanding features. Give it a try today, and we are sure you will have a very good experience.