We all have been familiar with 1080p or Full HD resolution for quite some time now. However, HD has taken a new leap with 4K UHD by offering a resolution higher than 1080p. 4K is mainly used in digital cinema and Ultra HD television. However, the main question here is why there is a need to convert HD to 4K.
In 4K technology, users can enjoy a very detailed screen of videos and movies, which was not possible before. 4K is approximately 4000 pixels on your screen. The current laptop and computer screens are 1366x 768p on a 14 to 15-inch screen. The 4K packs twice as much as the 1080p screen and this feature enhance the details. As a result, the pixelation disappears completely to the human eye.
What is a 4k format, and how is it better than HD?
Now the question here is, what is a 4K format? 4K Ultra HD, also known by the name UHD, ultra-high-definition, is an eye-popping resolution that brings more pixels in front of your screen than you can ever imagine. 4K is a successor of Full HD, and it has about four times more pixels on the screen, which gives users a very detailed view.
In a nutshell, 4K means a clearer picture than Full HD. As compared to HD, it has about 8,294,400 more pixels on the screen, which creates crisp and detailed images on the screen. 4K resolution has about 3840x2160 pixels, and Full HD has 1920x1080 pixels.
There are numerous reasons why 4K is better than HD. First, 4K has better picture quality than HD, which means we can see every small detail of the picture. 4K makes it possible to see these details while sitting closer to the screen too. If we talk from the production point of view, it can scale down to regular HD while retaining the high and detailed picture quality.
Part 1. The best way to convert HD to 4k on Windows/Mac
If you are looking for the best way to convert HD to 4K, then Aicoosoft Video Converter is the solution to all your problems undoubtedly. Aicoosoft Video Converter is a very powerful software that uses advanced AI technology to perform video conversions.
Besides, the software also has a powerful video downloading feature. This exclusive software can not only perform conversions but also can edit, download, and compress videos. Let us have a closer look at some of the amazing features of this software:
30 times faster video conversion: Using Aicoosoft software, you can convert HD videos to 4K resolution without any loss of quality and that too 30 times faster as compared to other traditional software. The software maintains 1:1 conversion quality with 4K videos without any loss in the quality using the advanced AI technology.
Support multiple formats: Using Aicoosoft, you can convert audio and video files to multiple formats in seconds. The most amazing quality of Aicoosoft is that it preserves HD and 4K quality while performing conversions.
Professional Video Compressor: Aicoosoft is a professional video compressor software too. Using it, you can compress HD videos without any loss in the quality. You can also change the bit rate, video format, and resolution accordingly. Thanks to its AI technology, you can now compress HD videos from GoPro and HD cameras.
Download HD video: With Aicoosoft video downloader, you can download HD and 4K videos from streaming sites very easily.
Support more than 1000 sites: The powerful built-in downloader of Aicoosoft, lets you download videos from more than 1000 video sharing sites. Isn't it simply amazing?
Convert videos for any device: Using Aicoosoft, you can convert any video for any device without the slightest loss in the quality.
How to convert HD to 4K using Aicoosoft Video Converter
Using Aicoosoft 4K converter, you can convert videos into any format. Follow the steps given below to perform HD to 4K conversion.
Step1

Add HD videos

Download Aicoosoft Video Converter from

https://www.aicoosoft.com/video-converter.html

and install it on your computer. After that, launch it and using "Add Files" to add the HD videos that you want to convert into 4K format. Just on the right of the "Add Files" button, there is an inverted triangle, click on it, you can even add an entire folder.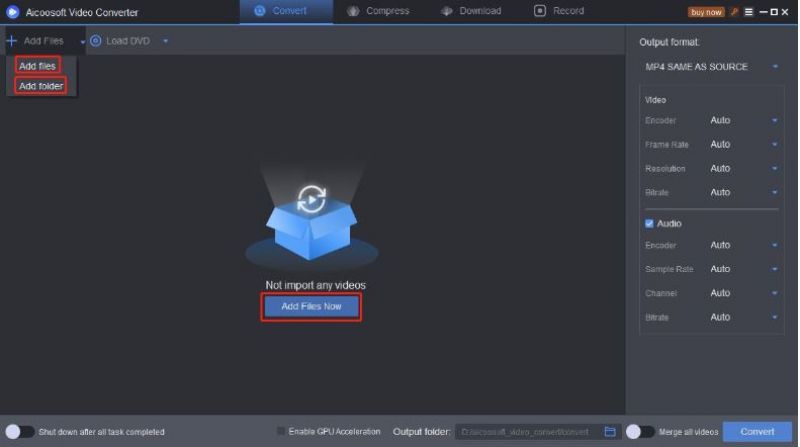 Step2

Select 4K video as output format

After adding videos in the program window, you can choose the output format. In this case, it is 4K Video. You can convert it to MP4 4K Video, MOV 4K Video or MKV 4K Video. All the format options are displayed on the right side.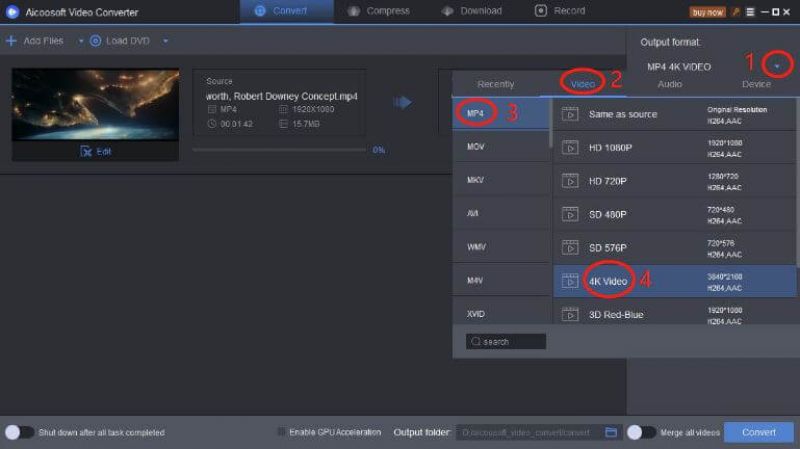 Step3

Complete conversion

Press "Convert" button present on the lower right corner. This will start your conversion process. After the conversion process gets finished, click on "Open Folder" icon present on the pop-up interface to find the converted videos.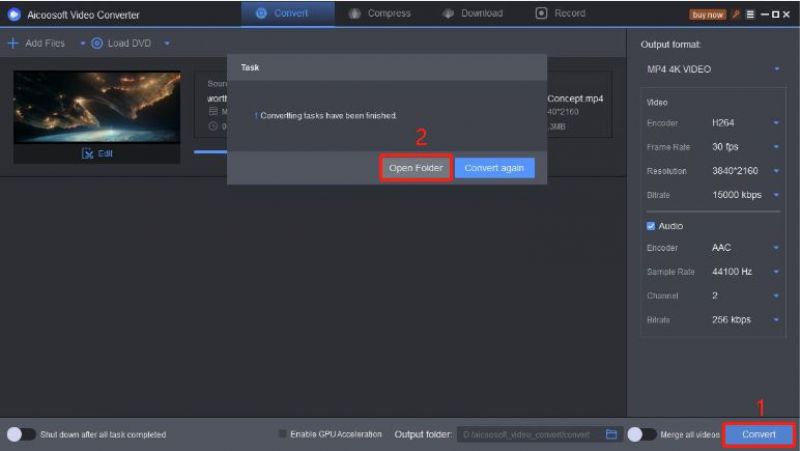 Part 2. Convert Video HD to 4k online with HD convert
Another amazing software that you can use to perform HD to 4K conversion online is HDconvert.com. It is incredible software, which can convert to 4K quality at an amazing speed. There is no limit to the file size, and if you are using this software, you need not install any plugins or software.
Features of HDconverter
Let us have a look at the amazing features of this software:
Fast Conversions: Using this software, you can convert videos online to 4K quality without any size limit or loss in quality. It can convert videos online in the cloud, 30 times faster than any other traditional software.
Supports popular formats: HD convert can convert video in HD format to 4K in just a couple of clicks and that too without installing any software. Also, you can perform advanced video settings like bitrate and resolution.
Upload files to cloud-based converter: This is one of the most interesting features in HD convert software. Since the 4K converter does not have any input or output file size limit, you can upload the file of any size in their cloud and convert it into any format, codecs, and quality. It also enables you to upload multiple files at the same time.
Excellent customer support: Besides all the above brilliant features, they have excellent customer support. You can contact them anytime in case you face any problem.
How to convert HD to 4K using HDConvert
Step1: The first step is to upload the source video file in HD format.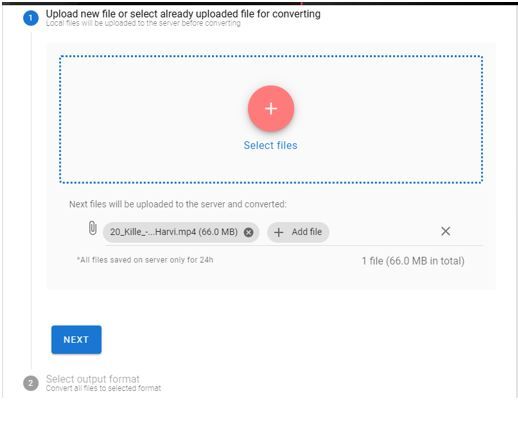 Step2: The next step is to select the video format of the output file.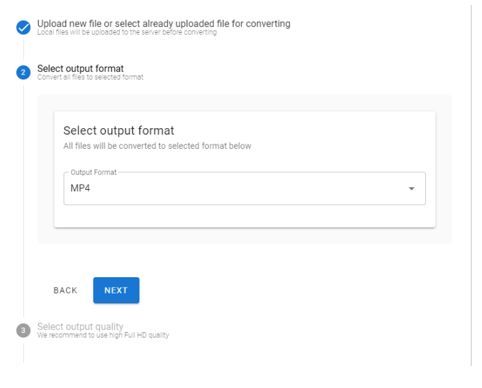 Step3: The third step is to select the video quality in which you have to select "Ultra HD 4K" resolution. However, this feature is only available in the premium version of the software.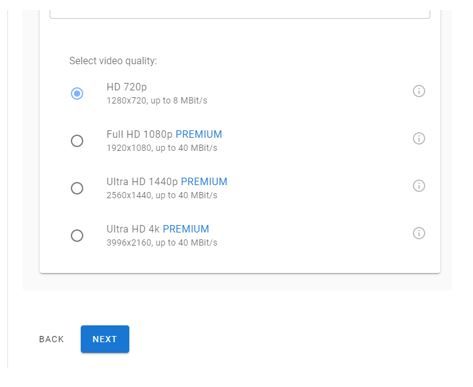 Step4: The next step is to adjust codec H264 or HEVX and adjust the video bitrate.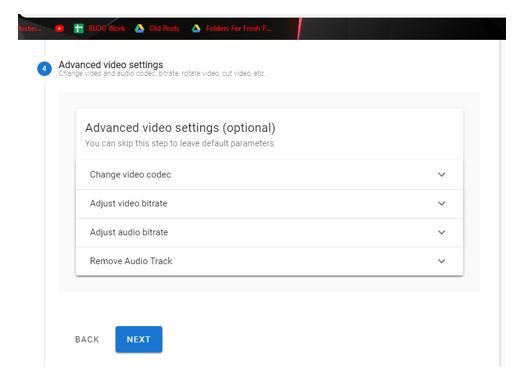 Step5: The last option it gives is to convert with Free or Premium. Select the desired option, and your conversion will be performed.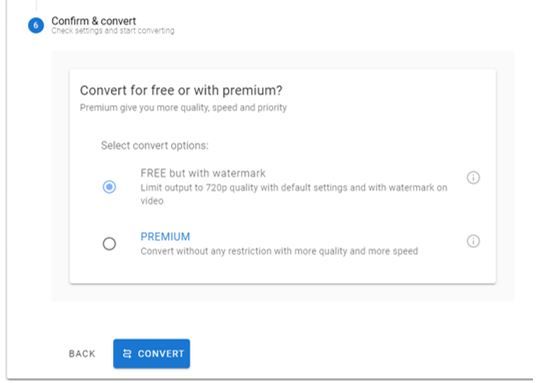 Part 3. Convert HD to 4k free and unlimited with Onlinevideoconverter
Another popular method to perform HD to 4K conversion is https://onlinevideoconverter.vip/. The online video converter tool is a free service using which you can perform unlimited file conversions. The tool offers one of the fastest conversion rates. It takes approximately 5 minutes to perform any conversion. Above all, the software supports all the popular formats and quality.
Steps to convert HD to 4K using the online video converter tool
Follow the steps given below to perform the conversion:
Step1: Copy and paste the link of the HD video you want to convert.
Step2: Select the format of the output video.
Step3: Click on the convert button to start the conversion process.
Step4: Press the download button to download the video in the desired resolution. In our case, it is 4K.
Conclusion
It is obvious that 4K is a much better resolution than HD. Besides having a better picture quality, it enables the users to see every detail of the picture as well. From this article, you already know several methods to comvert HD to 4k. With Aicoosoft Video Converter, you can perform HD to 4k conversion very easily and conveniently. The conversion requires a powerful video converter software that can perform the conversions without losing quality. Aicoosoft Video Converter fits all the criteria of a powerful converter.