At some point of time in your life, you may have felt the pressing need to convert an AAC file into mp3 format. Did you know that it is quite possible to convert AAC to mp3 mac using various tools designed for this purpose?
Let us say, you have very little time in hand to get through the conversion. All you need is a reliable video converter tool to convert AAC to mp3 and get the files transformed in the format of your choice.
Part 1. How to convert AAC to MP3 in iTunes?
AAC and Mp3 are essentially audio compress formats. As far as iTunes is concerned, AAC is its default format. Most software is capable of playing both AAC as well as MP3 files. Hence, individuals are open to the idea of pursuing AAC to MP3 iTunes conversion.
Lifewire acts as an online guide to help you convert aac files to mp3 format.
Steps to convert aac to mp3 iTunes are listed below:
Step1
Firstly, you need to select the music files that need to be converted to mp3 format. You can select multiple files in one go.
Step2
Next, you have to click on the File option. Here, you will find the Convert button.
Step3
This will further lead to a drop down menu where you need to select "Create mp3 version" option.
Step4
Wait for your files to be converted to the mp3 format.
Step5
Once the conversion is through, your iTunes library will house files in both AAC and MP3 formats. You can then delete the AAC files if you would like to do so.
Pros and Cons of AAC to MP3 conversion in iTunes:
Pros:
Popularity of Mp3 files is much higher.
Compatibility is spot on with most electronic devices.
Cons:
Sound quality is poor when compared to AAC files
File Size of mp3 files is higher when compared to AAC
Restrictive capacity
Part 2. How to Convert AAC to MP3 free and online?
Did you know that you could opt to convert protected aac to mp3 files by settling for a secure and stable online audio converter?
Out of the many converters doing the rounds of late, Zamzar certainly stands out in the crowd. This platform claims to have converted about 510 million files till date. Apart from aac to mp3 conversions, this tool supports aac conversion to other file formats as well.
How to use Zamzar to convert AAC files of MP3 format?
Step1
With this online converter, you can convert AAC files to MP3 by first clicking on the "Add Files" option. Here, you get to drag and drop down already existing files for conversion. Similarly, if you have a link to the AAC file that you wish to convert, then you can simply paste the link in the available box by clicking on the select link option.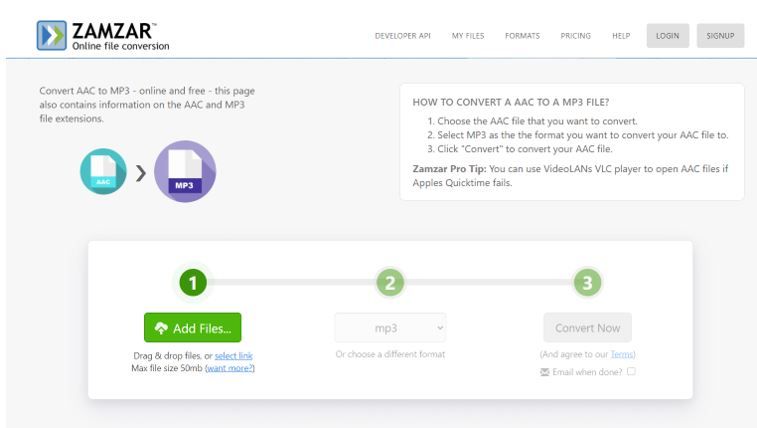 Step2
Next, you need to choose "mp3" as the file conversion format.
Step3
End the process by clicking on the "Convert" option and wait for your file to transcend from AAC to MP3 format.
Part 3. The best AAC to MP3 converter to convert AAC to MP3 without iTunes
Are you familiar with the fact that without iTunes convert AAC to mp3 is quite possible?
If you are on the lookout for some audio and video solutions coupled with access to some tips and tricks around this subject, then your search is most likely to end at Aicoosoft Video Converter tool. The conversion platform would assist you in converting audio and video files to over 1000 plus formats.
It wins hands on when compared to other traditional converters. This is primarily because it is designed in such a manner that it is capable of converting audio files not just at a high speed, but also by maintaining quality of the output.
Key Features of Aicoosoft:
With 30 times faster conversion of AAC to mp3, the Aicoosoft video conversion tool ensures high quality conversion across multiple platforms.
Aicoosoft video converter tool makes use of Artificial intelligence-based technology for improving the converting technology by optimizing the multi-core processor. Thereby, increasing the speed of conversion.
It supports to convert videos and audio to 1000+ formats, you can convert fast any formats you want.
With the downloading function you can download videos to mp3 from 1000+ streaming websites.
Besides, the tool allows editing, compression, recording of the videos and convert DVD to the digital format you want.
How to convert AAC to Mp3 with Aicoosoft?
You can make use of the Aicoosoft converter in order to convert AAC audio files to MP3 format. Let us take a look at the step by step process in order to proceed with the same.
Step1
To begin with, you will have to choose files in AAC format that need to be converted into MP3. You can either drag and drop the files in the program or even click on Add files options to begin with.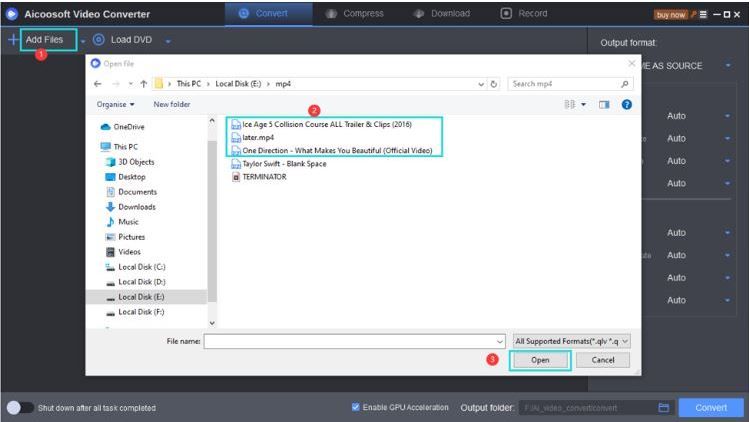 Step2
Next, you have to select the "mp3" option from the many available convertible formats.
Step3
This needs to be followed by clicking on the "Convert" option. You can locate the option at the bottom right of the window or beside the file to be converted.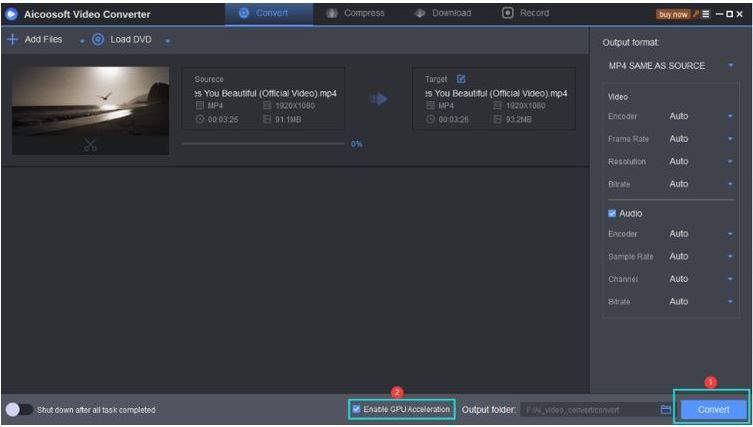 Part 4. Frequently Asked Questions
What is AAC version of music in iTunes?
AAC stands for Advanced Audio Coding. This is essentially an audio coding standard that is viewed as a successor of mp3 audio format.
Why can't I convert mp3 to AAC in iTunes?
You will have to alter the settings to proceed with the same. Go to iTunes and click on "Preferences" in the drop down menu. Under the "General" tab, click on the "Import Settings" option. In the "Import Using" roll down menu ensure that "AAC Encoding" is selected. Finish by clicking on "OK" before getting out of the Preferences field.
Can mp3 players play AAC files?
AAC files can usually be played on all devices and products. However, certain mp3 players may not support AAC files. What you need to do here is to get your AAC files first converted to mp3 format and ultimately play it on the selected mp3 player.
Is AAC better than mp3?
Even though people lay preference on the mp3 format, AAC files are considered to be better than mp3 in two aspects. Firstly, AAC files are known to surpass mp3 files in the area of quality. Secondly, AAC files are believed to be smaller in size as compared to mp3 files.