Are you looking for ways to convert FLV to MP3 easily? We all are well aware of the fact that FLV is one of the best video formats currently. It is used to stream TV shows and movies over the Internet with Adobe Flash Player 6 or other new formats. FLV is the most used format on many video streaming sites currently. But what is the need to convert FLV to MP3? We need to convert FLV to MP3 because FLV mode is not compatible with most devices like iPhones, iPods, and MP3 players. That is why we need to convert FLV to MP3 so as to enjoy our favorite music on all of these devices.
What is FLV format?
An FLV file is a flash video compatible file that is exported via Flash Video Exporter plugin or any other program that has FLV support. It contains video, audio, and metadata packets. The flash video format by Adobe systems is most commonly used for online video sites like Hulu, YouTube, and Vevo, etc. All operating systems except iOS can view and read FLV files using Adobe Flash Player or any third party software. Android and iPhone devices can easily play FLV files via specific browsers and open-source software.
Part 1. Convert FLV to MP3 online and unlimited
The simplest and easiest way to convert FLV to MP3 online is via Convert2mp3. With this awesome video converter, you can easily download your most loved videos from Clip Fish, Daily motion, and YouTube and convert it into any format you like. The most remarkable feature of this converter is that it is absolutely free and does not even require any registration.
Converting videos from FLV to mp3 online has now become a necessity. At this moment, Convert2Mp3 comes to rescue as the video converter supports all the popular formats like Mp3, mp4, avi, mov, flv, mkv wma, etc. The speed of conversion of this video converter is really fast and also gives its users the facility to search their favorite videos and download them easily.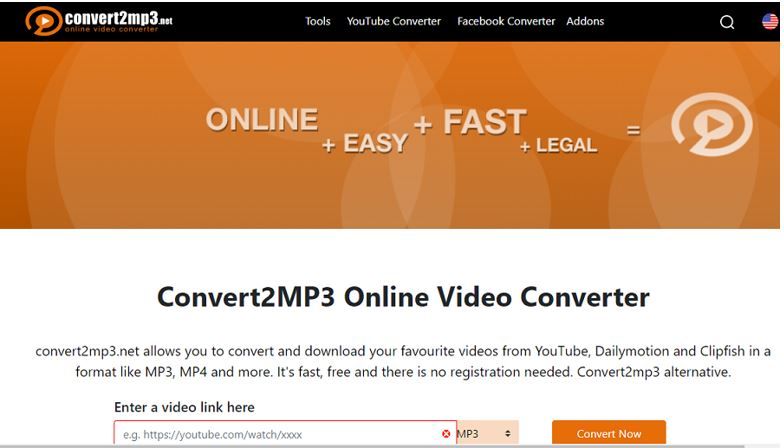 How to convert FLV to Mp3 using Convert2MP3
In order to convert FLV to Mp3 follow the steps given below:
Step1
Step2
The next step that you need to follow is to find the YouTube video in FLV format that you want to download.
Step3
Now, you have to paste the URL of the FLV video that you want to convert into MP3 format.
Step4
The last step is to choose the MP3 format, that is the format in which you want your FLV video to convert. Isn't it simple?
Part 2. Convert FLV to MP3 free and unlimited
Another online tool that is extremely easy to use and with which you can easily convert your FLV videos into mp3 is Online Video Converter. It is the number one FLV to mp3 converter online, which is free too. Online Video Converter is a free web application with which you can convert any FLV video link into mp3 format, and above all, you do not even need to download the web application on your device. It is one of the best video converters present online as it offers high-quality FLV to mp3 conversions. The conversions are super-fast, and not only mp3 it also supports video to audio conversions into various other formats like aac, wma, flac and wav.
It supports famous online video portals like Vimeo, Daily Motion, and YouTube. Online video converter is also mobile compatible, and you can perform unlimited conversions.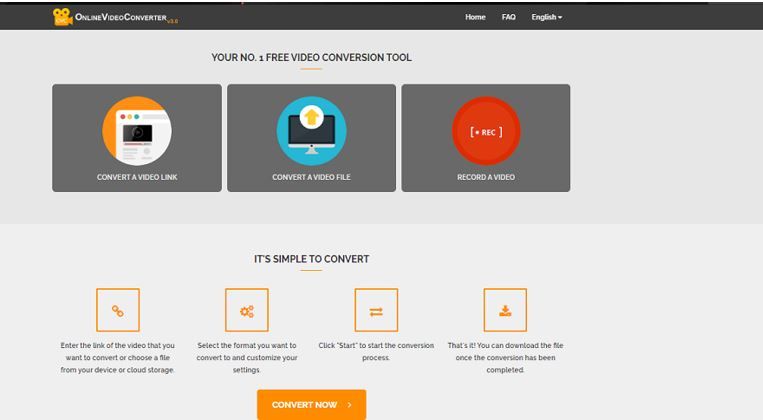 How to convert FLV to MP3 using Online Video Converter
To convert FLV to MP3 follow the steps given below:
Step1
Step2
The next step is to enter the link of the FLV video that you wish to convert into MP3.
Step3
Select the mp3 format that is the format in which you want your FLV video to convert.
Step4
Click on the start button to start the process of conversion. The video converter also enables you to download the converted file on your device.
Part 3. Best FLV to MP3 Converter to convert FLV to MP3 for Win/Mac
Still, wondering the best way to convert FLV videos into MP3 format? Try Aicoosoft software. It is indeed one of the best ways to perform the conversion as it uses powerful AI technology to maintain a better balance between output video quality and conversion speed. It not only performs video conversion and compression but also has an extremely powerful video downloading feature. You can convert, download, and record videos easily using this software.
Why should you choose Aiccosoft for FLV to MP3 conversion?
There are many reasons why Aiccosoft is one of the best FLV to mp3 converter online for video to audio conversions. The key features of the software are:
Aiccosoft software can convert your FLV format to MP3 without compromising with quality. The converted file will be of high quality.
It has a very easy to use interface; therefore even a nonprofessional can use it to convert FLV files to mp3 files.
Since the converter uses lossless conversion technology, and advanced GPU acceleration technology, it gives high-quality mp3 files and converts FLV files into mp3 files with lightning-fast speed.
It also uses a multi-core processor that increases the conversion speed. What is more convenient and exciting than performing your conversion in seconds?
It can also convert audio and video formats into more than 1000 audio and video formats without loss of quality.
It is also a professional video compressor. One platform and so many functions. Isn't it amazing?
The software also has malware and virus privacy, so you can download it without any worry.
Steps to convert FLV to MP3 using Aicoosoft
The steps of conversion are as follows:
Step1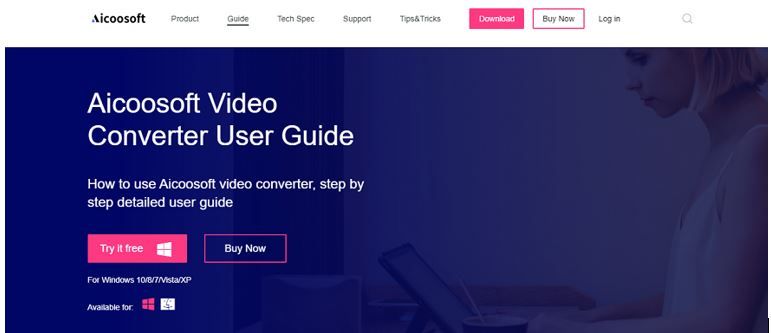 Step2
The next step is to download and install the Aicoosoft software on your device. You need to install the right version of the software on your computer. After that, install the setup file.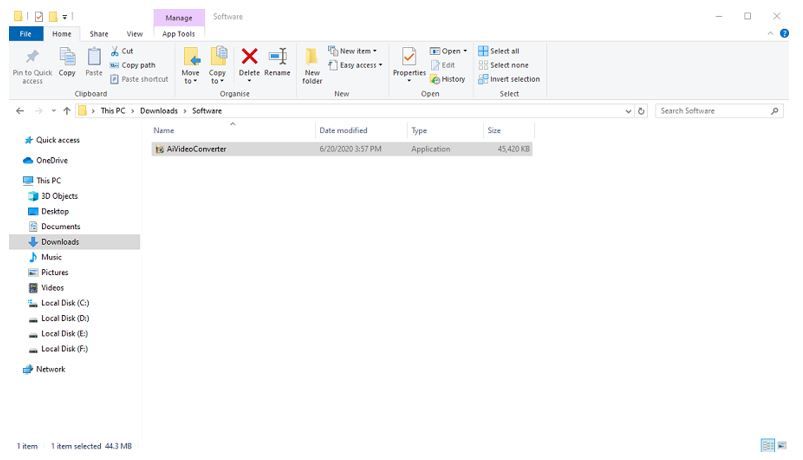 Step3
When the installation finishes, click on the finish button. Your AI converter will start.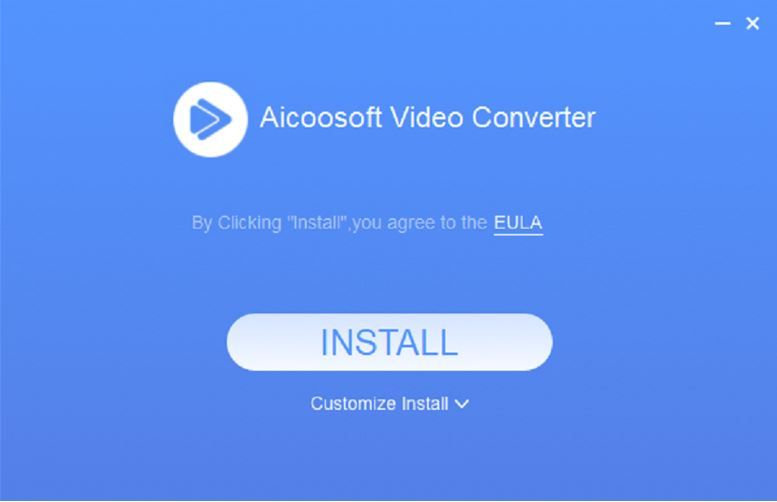 Step4
You can then check the latest version of the Aiccosoft program. For this go on settings and then general option. After that, you can check the latest version.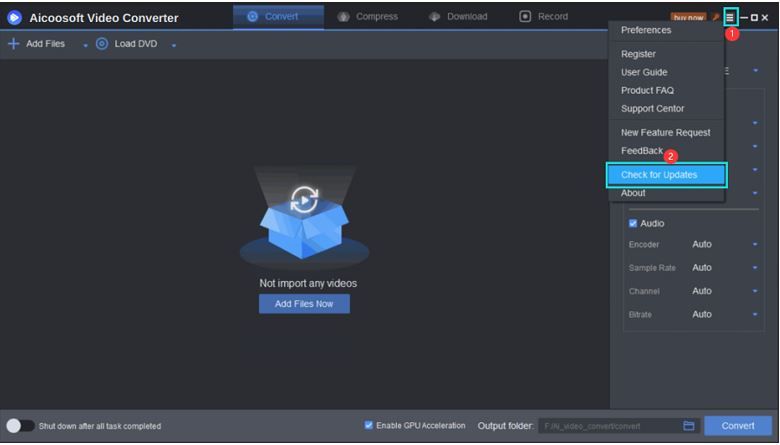 Step5
Next is your FLV to the MP3 conversion process. Add the FLV video that you want to convert. After that, select the MP3 format and then click on the Convert button present on the lower right corner. That is all.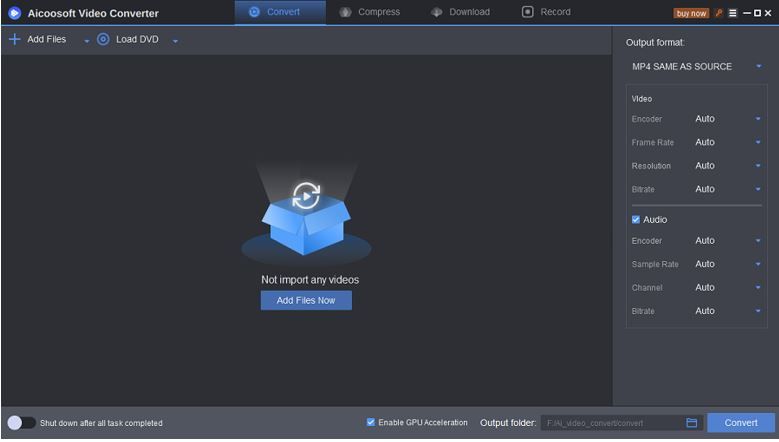 Part 4. Frequently Asked Questions
How to convert FLV to MP3 using vlc?
Start VLC
Click on the media button and then click on convert
Then click on add and then open your FLV file
Then click on the Convert button.
Choose mp3 format
Click on browse to select a destination location of the converted file and then click on the start button.
Can Windows Media Player convert FLV to MP3?
No, Windows media player cannot play FLV files and hence it cannot convert.