M3U is a text that points media players to the video or sound location and can work on any text editor. However, you cannot open it by a media player, on iPhone, iPad, iPod, QuickTime, MP3 players, Android telephones, tablets, Smart TV, PSP, Xbox, and so on. To play M3U on iPhone, iPod, Android, and so forth, you need to convert the M3U over to the typically utilized formats such as MP3, WMA, WAV, FLAC, AAC, OGG, and so on. To convert m3u to m3u8, MP3, WAV, and so forth, you will require an expert m3u to m3u8 converter. This feature will walk you through some of the best m3u converters to help you convert m3u files to m3u8 or any desired format.
What is m3u8 file?
An M3U8 file is a playlist file utilized by different sound and video playback programs. It contains a path or URL to a media file or folder of media files, with data about the playlist. M3U8 files utilize similar formatting as .M3U files, though the text information stored in M3U files uses UTF-8 character encoding.
What is m3u file?
An M3U file is an Audio Playlist file that stands for MP3 URL, and as such, it is not the actual audio File all by itself. An M3U file points to sound (and sometimes video) files so that a media player can queue them for playback. These text-based files can contain URLs and absolute or relative path-names to the media files or folders. M3U files that are UTF-8 encoded instead get saved in the M3U8 file format.
Why does man wants to convert m3u8 to m3u or m3u to m3u8?
M3U8 shouldn't sound strange to most of you. It is a plain text file on your PC, and you can open or edit it with a text editor. On the other hand, M3U8 files are the actual pathways or URL referring to specific media files or folders. You can't play such files with the primary media player on your PC, iPhone, Android, and so on. For playing M3U8 files on any device, you need the M3U8 converter.
Part 1. Online way to convert m3u8 to m3u
AnyConv
When it comes to converting M3U to M3U8 files, there are several ways to go about it, like using an m3u to m3u8 converter online. One such tool that does the job well and can also convert to many other different file formats is the AnyConv M3U8 converter. It is a sturdy, free online tool that is also very easy to use.
URL
-
https://anyconv.com/m3u8-converter/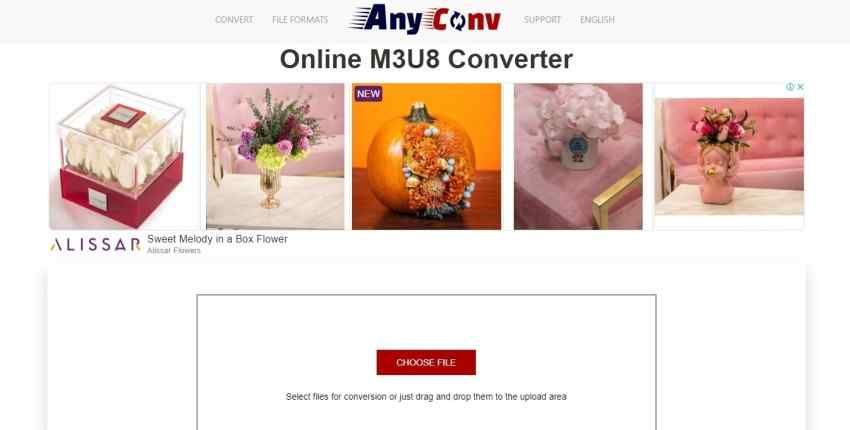 How to convert m3u8 to m3u with AnyConv?
Select the files to convert or drag and drop them on the converter.
After uploading the File, click on the "Convert" button to start converting.
Once the conversion is over, proceed to download the converted File.
Part 2. Free way to convert m3u to m3u8
Converting m3u8 to m3u and vice versa can be done in some other different ways. The first mentioned was the m3u to m3u8 converter online method. As mentioned earlier, you can play such files on individual media players, like the Window Media Player, or edit or manually create using a text editor, thus converting the m3u to m3u8 files easier. That means you can also use a media player or a text editor to convert the files. One such media player regularly used on most PC and cherished by many is the VLC. Learn how to use it to convert m3u to m3u8 and vice versa.
VLC Media Player
VLC is an adaptable M3U player that works Windows, macOS, Android, iOS, and other operating systems. It can play any video and sound, even stream audio and video online. Aside from M3U, it likewise supports playlist file types, like M3U8, PLS, XSPF, WVX, CONF, ASX, IFO, CUE, and others.
How to convert m3u to m3u8 using VLC Media Player?
Step 1: Open your M3U File utilizing a text editor.
Step 2: Copy the URL of the playlist.
Step 3: Open VLC Media Player on your PC.
Step 4: Click the "Media" tab and select "Open Network Stream."
Step 5
: Select "Network," paste the replicated URL from where the following window pop up, click "Play."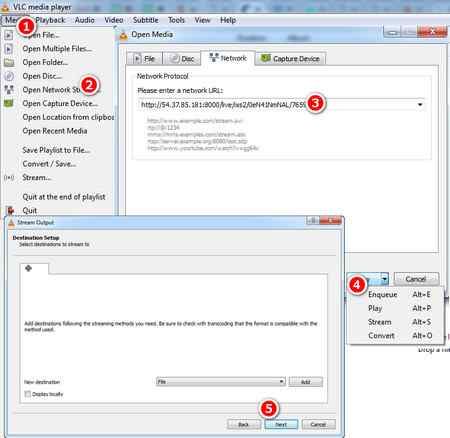 Part 3. Desktop way to convert m3u8 to m3u or m3u to m3u8
MusConv is an exceptionally nifty application that indeed proves to be useful for anybody hoping to import or export playlists to streaming services. MusConv works well as an m3u8 to m3u converter and vice versa. It is a desktop converter trusted by many and is powerful, and has a clear and straightforward interface.
URL
-
https://musconv.com/m3u8-to-m3u/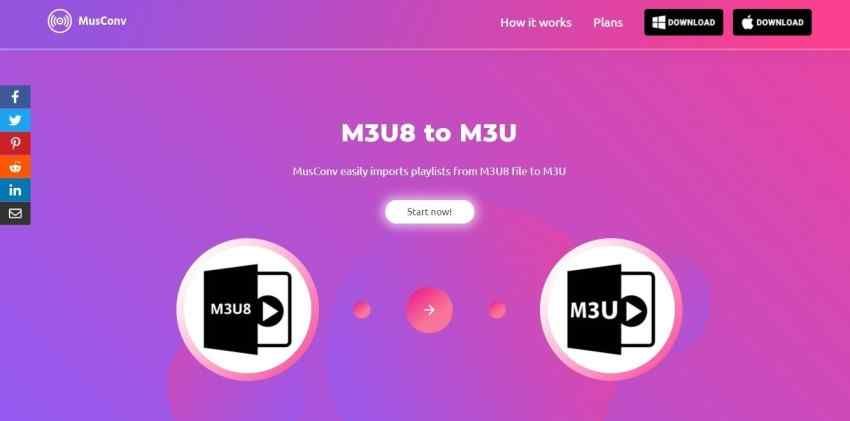 Pros:
Easily transfer music playlists across different music streaming platforms.
Great looking interface and straightforward functionality.
Simple to use.
Cons:
Batch playlist importing.
Erasing duplicate tracks in your playlists.
Apple Music isn't supported.
Part 4. All-in-one Video Converter
M3U to M3U8 converters are hard to find because it is the video player's information that automatically converts the File to play videos. That is why individual media players are so good at playing almost all media formats thrown at it. With other media players, you may end up getting an error message such as missing codec. Thus, the video can't play. Well, not to worry, this is a fairly common occurrence, and a sure way to overcome this will be through the use of a video converter.
Aicoosoft Video Converter
Using Aicoosoft Video Converter, you can convert the M3U8 file to MP4, m3u or any desired format as Aicoosoft supports 1000+ video/audio formats. You can even download and record videos in the format you want as Aicoosoft comprises an in-built downloader and screen recorder. If you are concerned about quality and fastness, files get processed at a 30X faster speed. To play media files with the M3U or M3U8 format, use the Aicoosoft Video Converter to convert to the playable format or convert to either format easily.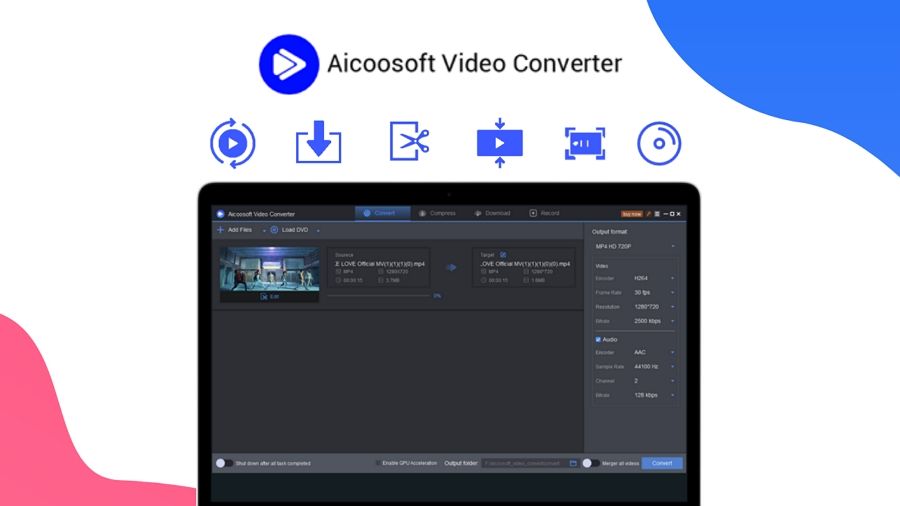 Features
Need to edit your videos effectively? Aicoosoft has an all-in-one video editor toolbox with attractive options like trim, merge, crop, subtitles, watermark, and a lot more.
Convert any video or audio to 1000+ formats super-fast in just one-click without losing quality.
Convert your videos from any platform or a device like a smartphone, camera, drone, monitor unit, and PC.
Aicoosoft uses AI technology responsible for the lossless conversion, faster operation, optimization, and powerful features.
Conclusion
M3U files (MP3 audio playlists) are specially formatted text files, and as such, you can't merely utilize any text file and convert it to m3u. You need to save it in an appropriate syntax for .m3u playlists. However, you can manually make them with any text editor. Most users make playlists directly from media players using the save playlist function, which is standard in present-day players. When it comes to converting m3u to m3u8 and vice versa, there are not many tools to effectively get the job done. Some online converters don't support such file types, while specific desktop programs may crash when converting such files. Above is the best m3u8 to m3u converter online tool, a few great alternatives, and the best desktop tool called Aicoosoft to help you convert the m3u and m3u8 files easily.